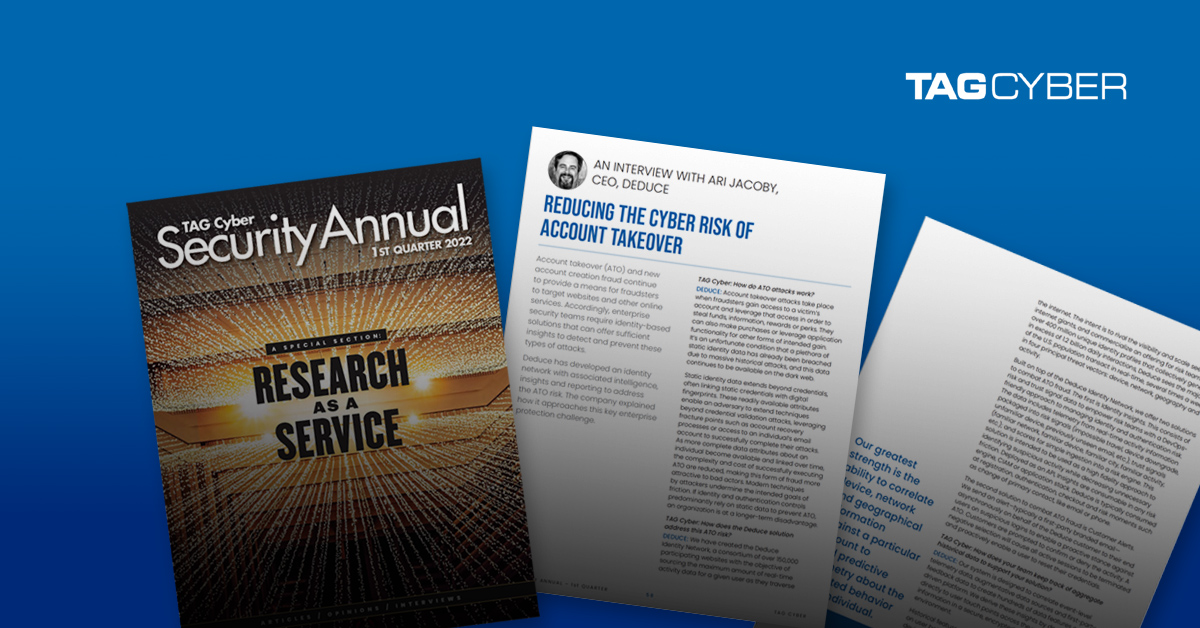 Research Report
Reduce the Cyber Risk of Account Takeover
In this interview with Deduce founder and CEO Ari Jacoby, the TAG Cyber team digs into the growth of account takeover and account creation fraud.
Expand Details
Because criminals can easily find stolen and leaked consumer identity data to use in ATO attacks, legacy authentication strategies that rely on static data are at a disadvantage against fraudsters now and over the long term.
The solution is Behavioral Intelligence at Scale, drawn from a consortium of websites and apps that share properly permissioned data on hundreds of millions of unique identity profiles and more than 1.4 billion daily interactions. Deduce Identity Insights uses this data to provide risk and trust signals that can prevent ATO fraud without adding friction for trusted users.
In this research report, you'll learn:
How ATO attacks happen.
How Real-Time Behavioral Intelligence at Scale powers the Deduce risk and trust engine.
How Deduce Identity Insights addresses and mitigates ATO risk.
See how the award-winning Deduce Identity Insights platform delivers actionable insights to enhance the Trusted User Experience and prevent ATO fraud.
About Deduce
Deduce detects SuperSynthetic™ customers–AI-generated identities so realistic they fool legacy fraud solutions. Deduce unmasks SuperSynthetic identities using patented technology and the largest purpose-built, activity-backed identity graph, with 840M U.S. profiles generating 1.5B+ authenticated online events per day across 150,000+ websites and apps. Deduce Identity Graph data drives real-time multicontextual digital forensics to protect new account opening workflows and expose "sleeper" SuperSynthetics already in customer databases.
Recent Deduce awards include the #1 Security spot in Fast Company's World's 50 Most Innovative Companies 2022 and the 2022 CISO Choice Award for Fraud Prevention. Learn more about the SuperSynthetic threat and Deduce's solution at deduce.com.