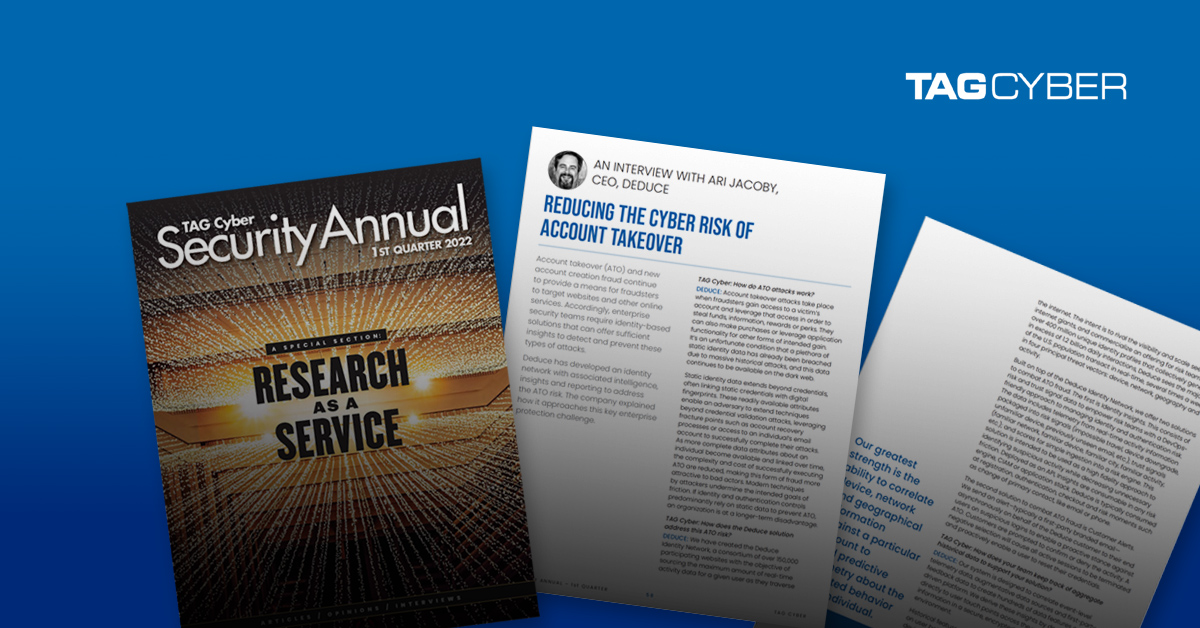 Research Report
Reduce the Cyber Risk of Account Takeover
In this interview with Ari Jacoby, Founder/CEO of Deduce, the TAG Cyber team digs into the proliferation of identity fraud — specifically, Account Takeover and new account creation fraud.
Expand Details
Account Takeover (ATO) attacks take place when fraudsters gain access to a victim's account and leverage that access in order to steal funds, information, rewards, or perks. They can also make purchases or leverage application functionality for other forms of intended gain.
It's an unfortunate condition that a plethora of static identity data has already been breached due to massive historical attacks, and this data continues to be available on the dark web. If identity and authentication controls predominantly rely on static data to prevent ATO, an organization is at a longer-term disadvantage.
In this Research Report, you'll learn:
How ATO attacks happen
How real-time behavioral data at scale powers the Deduce engine
How the Deduce solution addresses and mitigates ATO risk.
See how the award-winning Deduce platform delivers actionable insights to enhance the Trusted User Experience while preventing ATO fraud.
About Deduce
Dedicated to democratizing risk and fraud technologies, Deduce prevents consumer-facing Account Takeover (ATO) and registration fraud via the constantly growing Deduce Identity Network—the largest real-time identity graph across cyber risk and fraud in the U.S. today with over 500M profiles and in excess of 1.4B daily activities. The Identity Insights and seamlessly integrated Customer Alerts products are accessible via a developer-friendly deployment model. Honors and awards include Fast Company's World's 50 Most Innovative Companies for 2022 and #1 in the Security category, 2021 Fortress Cyber Security, Global InfoSec, and silver Edison Awards, as well as spotlights from CSO, Artificial Intelligence Excellence, and more. To learn more, please visit deduce.com.